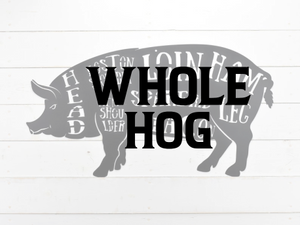 This is a deposit only.  
Price is $4.50/lb for the hanging weight of the animal.
Average Hanging Weight : 220 lbs
Average Take Home Weight : 150 lbs
The Cuts
Standard Pork Cuts w/ average yield percentage:
Belly 15%  Chops 15%  Roasts (Hams & Boston Butts) 40%   Ribs 5%   Hocks 5%   Trim/Ground Pork 20%
You choose:
Chop thickness. 
Keep or grind roasts.
Keep or grind hocks.  
What items to smoke
Other custom requests
Extra items upon request: Neck bones and organs.
Smoked Meats: 
Any item can be smoked using Pecan wood from our farm.  Bacon, hocks and hams are the most popular items to smoke.  An extra fee of $2/lb will be added for smoking.  This is on the actual pre-smoked meat weight, not a hanging weight calculation.
 Another option is to make your ground pork into smoked sausage. This costs $3.00 lb. Our smoked sausage is a local favorite! It is made into 1/4 lb links in natural gut casing before smoking; our flavors include my personally made organic spice blends of Breakfast (mild, lightly sweet) and Spicy (hot, no sweetness)
After you place your order we will call to discuss the time line and to get your customer cut instructions.
If you have any questions please call 850 270 8804
Deposit is non-refundable.
In order to receive Route Package Protection on your beef or pork order, you will be charged a portion of the Route cost with the initial deposit and the remaining balance (up to 3% of the order subtotal) on the final invoice.
Arrowhead pork is delicious! I will be a repeat customer for sure!
Yippee! Hooray!! Woot Woot!!!
Cheers,
Tony
Awesome!
Always great! This was our second hog order and our 2nd beef assortment pack. We had Tony smoke the bacon and some other goodies. Definitely worth the extra!
Nothing brings a smile to a face faster than tasty bacon :)
Cheers
Tony
Aaahhhmazzzzing!
The hog I split with a friend is so flavorful. I didn't realize the bacon wasn't cured when I cooked it so was disappointed but all I did was salt it while cooking it and it was perfect! The sausage has just the right amount of fat added. Not like store bought that cooks down to nothing. Will never buy from the supermarket again. Thank you Tony for making my 1st purchase so painless and walking me through each step.
Thaaaaaaaaank you! We believe that a happy hog makes for a happy customer. Glad you are enjoying the pork.
Cheers
Tony
Amazing!
We are completely satisfied with our purchase of the whole hog. The meat is unbelievably delicious! Every cut we have tried has been superb. Thank you Tony for helping us make great choices. We will definitely be using Arrowhead Beef again in the future.
Just fantastic
Can't say enough good things about Arrowhead. The pork is really really good. Sure can't find anything like it in a supermarket. Thanks Tony for making the process painless (for us if not to the hog)