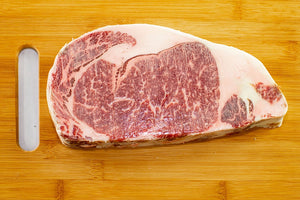 Hot damn this is a good steak.  Loved by those who've eaten it and desired by those who haven't the Wagyu Ribeye is THE STEAK everyone wants. Beautiful marbled flecks are found within this steak which translates to a juicy, tender and meaty heaven.
Prepare your taste buds for a wild adventure.
All our Wagyu Ribeye steaks are boneless and we offer 3 different grades and 2 different weights. 
Grading Scale
Most beef is graded as Select, Choice or Prime.  Wagyu is such an exquisite beef that it has a grading scale above prime. The grading is done via ultrasound and the entire carcass receives the same grade.  Remember, marbling in a Ribeye will be more distinct than a NY Strip than a Filet.  
The grading is done a 10 point scale with 10 being the highest.  You can consider Prime to be 0 to 2 on that scale.  Our fab groups the grades into 4 categories, we offer 3 of those.
Market grade is 4 and down. 
Classic grade is 5-7.
Signature grade is 8 - 9.  
Reserve grade is 10+
2/3
Ordered 3 ribeye, 2 or the 3 were tender and tasty. The third was ok, seemed tougher & didn't look the same as the other 2 ribeye, almost like it was a different cut. Tasted ok, but not great. Might try again, but is kind of pricey for the risk.
Yikes. 2 out of 3....great odds for Vegas, but maybe not for beef!? When you're ready to throw some dice again I'm a betting man it will land on [rib] eyes.
Cheers
Tony
Some of the best steak I have ever had.
Loved the ribeye and have some short rib defrosting now for dinner tomorrow. We will be ordering again soon.
There's plenty more where that came from!
Cheers
Tony
Waygu
We really enjoyed our steaks and look forward to purchasing more beef in the future!
Thank you ma'am. We are looking forward to it.
Cheers
Tony
Enough said. Mmhmm.
(casual nodding of the head)
Fantastic
We bought the Wagyu ribeyes for a special occasion. They were magnificent!
Every occasion can be special when it's spent with someone you love...and you're eating good beef!
Cheers
Tony