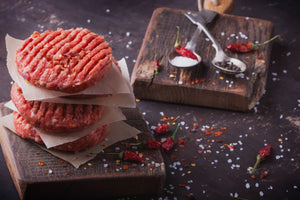 For those that love Wagyu ground beef but can't be bothered with making their own patties...we present to you our Wagyu Hamburger Patties.  Blended at 80/20 these make the ideal meat to put between your buns.
Best. Hamburger. Ever.
Size : Each pack contains 3 patties.
Wagyu burgers
As always, I get compliments on the meat from arrowhead beef. "Best burgers they've ever had" was the last one. I would highly recommend them. Thank you Tony!
I'm sure the chef is entitled to some 'bravo' as well. But we'll take our credit too!!
Cheers
Tony
This Product is Crazy Good
Talk about gourmet burgers!
I don't even know how to explain the flavor and texture of the burgers I have been making with this product.
It's amazing and I've never been much of a burger eater.
With no exaggeration, you could honestly WOW guests with these Wagyu burgers coming off your grill.
They are over the top.
You are too kind. We are happy to split the credit with the chef who can WOW their guests with our beef.
Cheers
Tony