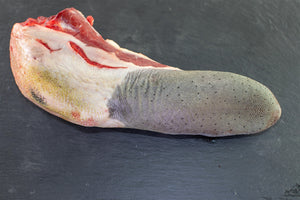 Now we're talking; Tongue might sound strange but it's really quite delicious.  Cooked whole and then cut or sliced first before frying, the tongue has a firm texture and goes great in tacos or as a main dish.
Size: Small is ~1-2 lbs and large is ~2-3 lbs
Cook: Stew, boil or roast
New Gem
I have never attempted to eat cow tongue before. I learned the about the health benefits of eating it. Then I ordered it and cooked it. I didn't realize how tasty cow tongue was until I tried it. It was a great experience. Tongue is packed with flavor and nutrients. Like everything else I've purchased from Arrowhead Beef, fresh and delicious. I will definitely purchase again.
Don't underestimate the tongue. It's good!
Cheers
Tony