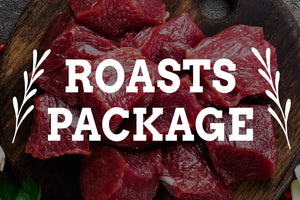 With "The Roasts" packages you get a mixed assortment of some of the finest roasts available.  Depending on your order size you might even get one of every kind!  You're guaranteed to get at least 2 different roasts.
Roasts Include:
Chuck Roast
Rump Roast
Sirloin Tip Roast
Brisket
Shank

Size: Roasts are 2 – 6 lbs each
Cook:  Roasting, Smoking, BBQ, Slow Cook
Delicious beef
Today 4/7/22 was the first time we enjoyed a roast from our order. It was very delicious and tender. I definitely will be ordering again.
That is music to our ears. Thanks Melody :)
Cheers
Tony
Excellent Beef
This was my first time ordering. I wanted to support a FL business. So glad I found Arrowhead! Had one roast thus far. It was super tender and delicious! Will be buying more for sure!
Roast, roast, roast your beef, gently down the stream. Merrily, merrily, merrily, merrily, our beef is but a dream.
la la la
Cheers
Tony
GREAT QUALITY!
Everything we have ordered so far has been delicious. I don't see myself going back to grocery store meat as long as Arrowhead is delivering. They have great customer service and a great quality product. 10/10 would recommend.
It doesn't get any better than that! We aren't going anywhere; we'll just keep on sending out great beef.
Cheers
Tony
Roasts look great!
I have not eaten a roast yet but they will be one the first things cooked in the new smoker.
If you're new to smoking or new to drinking our roasts will taste delicious after both.
Er, wait a second...lol. Thanks Jason!
Cheers
Tony