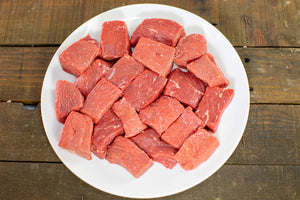 As the name suggests, our Stew Meat is ideal for stew and other slow cooked dishes. Already cut into lean chunks of beef, stew meat is easy to add to thick chili or put right in the Croc-Pot.
Size: 1 lb packages
Cook: Slow Cook, Stewed
lovely
The stew meat was top quality and my crockpot stew recipe came out delicious. Lean and tender and local, all you could want in a meat product. Thank you!
The best ingredient you can cook with is Love. The second is our amoozing beef. Fun with puns!
Cheers
Tony
Highly Recommend!
Just ate some tonight in some stew - delicious!! Bought some more about 5 minutes ago! Great flavor, 11/10 product!
What can we say, our beef 'goes up to 11'.
Cheers
Tony
Best tender stew meat !!
Can't wait to buy again!!! So good!!
'I feel good. I knew that I would. So good, so good, I got stew'
Cheers
Tony