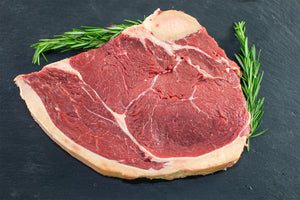 Sirloin Steaks are lean and fairly tender with good flavoring which makes the sirloin a fantastic option if you're looking for a lower priced premium steak.  We cut our Sirloin as a full sized bone-in steak so you get  a meal for two!
Size: Each steak is 24-32 oz
Cook: Grilling, Broiling
Excellent
Fast delivery , meat taste great I will buy it again
Another pleased patron!
Cheers
Tony
Only the best from Arrowhead
This steak was incredible. It cooked up beautifully in a cast iron pan on the stove. Just incredible.
Cast Iron + Arrowhead Beef = Happy Belly
Cheers
Your meat is delicious !... Tank you very much . Have a good day .
Thank you Claude for the kind review and a pleasure to speak with you on the phone as well.
Cheers,
Tony
Versatile Sirloin Steak
This steak is really awesome. It comes in a nice round slab that looks like an unfinished pizza which inspired me to create a dish I called pizza steak. Cut into triangles, Sear two minutes on each side, slather with half tomato sauce and half A1 sauce, top with mozzarella and pepperoni, bake 375 F until cheese melts, torch the cheese until toasted and enjoy. Will be back for more.
That is the most interesting and exciting thing I've heard in quite some time. The pizza steak! I love it! And you are quite correct, we cut many of our sirloins the old fashioned way, which is the entire sirloin muscle which makes for a large pie-ish shape. Absolutely wonderful.
Cheers
Tony