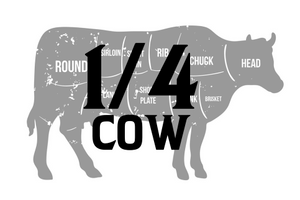 This is a deposit only.  
Price is $6.50/lb for the hanging weight of the animal.
DO NOT PURCHASE ANY OTHER ITEM AT THE SAME TIME. 
DO NOT PURCHASE ANY OTHER BEEF OR PORK SHARE AT THE SAME TIME.
Average Hanging Weight : 175 lbs
Average Take Home Weight : 110 lbs
The Cuts
Standard Beef Cuts: Chuck Roast, Tip Roast, Brisket, Rump Roast, Shank, Short Ribs, T-Bone, Rib Eye, Sirloin, Ground Beef, Stew Meat (optional to save soup bones & organ meats).
Typical take home breakdown with Standard Cut Selection.
Ground Beef & Stew Meat 40%
Roasts 30%
Steaks 20%
Misc items 10%
You Select:
Steak thickness
How many steaks in each pack pack
Size of ground beef packs (standard is 1#)
Which roasts to keep or grind
Other custom requests
Keep or pass on offal
After you place your order we will call to discuss the time line and to get your customer cut instructions.
If you have any questions please call 850 270 8804
Deposit is non-refundable.
In order to receive Route Package Protection on your beef or pork order, you will be charged a portion of the Route cost with the initial deposit and the remaining balance (up to 3% of the order subtotal) on the final invoice.
Amazing purchase!!
So glad we did this!! Beef is amazing!!
We are double exclamation marks happy as well!!
Cheers
Tony
Very good. High quality. Would do again.
We welcome you back anytime!
Cheers
Tony
Incredible beef and impeccable service
I can't speak highly enough of the quality of meat and the even higher quality of service we received with our quarter cow purchase.
Tony and George were incredible and accommodating. I just grilled up a couple of NY Strips, and it's no exaggeration to say it's the best beef I've had in my life. If you're on the fence about buying, do it.
Unless you don't value great service or incredible meat. Then I guess that's your loss, man.
They're just great folks doing business the right way. Can't wait to get through our share so I can purchase again.
Y'all were extremely great customers as well. Keep eating and we'll see you sooooooon.
Cheers
Tony
Great Stuff
We've purchased this beef twice and it is truly tasty, tender and totally worth it.
That's what we like to hear!
Cheers
Tony
Quarter Cow : $6.50/lb - Parthenais
Succinct and successful!
Cheers
Tony