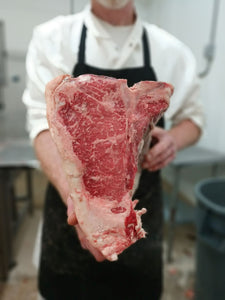 A new standard for grass-finished beef :
Wagyu & Parthenais Cross Breed
The only farm in the world to do it.
We harvested another steer and have a limited quantity of our delicious  100% grass-fed, grass-finished Wagyu beef.
The marbling of Japanese Wagyu Beef crossed with the genetics of French Parthenais that result in beautifully marbled, 100% grass-fed & grass-finished dry-aged beef. 
We have raised, harvested and now have available for a limited time small bundles of our 100% grass-fed, grass-finished Wagyu beef.
Normally our grass-fed beef is all from our French Parthenais breed of cattle.  And normally our Wagyu beef is corn finished.  We recently harvested one special Wagyu steer that we raised on the 100% grass-fed diet and it turned out....AMAZING!
Because there is limited availability we have created small assortment packs so that you can enjoy a little bit of everything.
The total weight is approximately 18-22 lbs.
     Pack Includes  Approximately 20 lbs of mixed cuts.
You do not get every cut. 
Not every box is identical.
These are all from one steer.  
These are approximate piece quantities to yield approximately 18-22 lbs.
Ground Beef (7+ lbs)
Steak (Ribeye / T-Bone / NY Strip / Filet / Sirloin/ Skirt / Flank) (2-3 pcs)
Roast (Chuck Roast, Brisket, Rump, Sirloin Tip Roast) (1-2 pcs)
Shank & Short Ribs (2-3 pcs)

Stew Beef (2 lbs)
Round Steak (1 pc)
Helpful Notes :
DESCRIPTION:  This is NOT like traditional Wagyu beef and it is NOT like traditional Parthenais beef.  It is a cross, which means it has less intense marbling than corn-finished Wagyu and more fat than traditional grass-fed beef. 
FLAVOR: It is dry aged like our Parthenais, with full bone-in cut steaks.  Since it's grass-fed/finished it will be more "beefy" and not have the normal Wagyu "sweetness" because grass, instead of corn is creating the marbling
FAT: More pronounced than our normal Parthenais.  Good intramuscular content in steaks.  Short ribs are always fatty, this cut is the highest concentration relative to meat of any cut in the entire animal. Ground Beef is roughly 85/15
UNIQUE: There are no other farms in the entire world that offer this cross breed and very few that even entertain grass-finished Wagyu in general.  
This is unique.  This is its own standard. 
This is what makes Arrowhead Beef, special as a small craft beef producer.
Surprised!
This is my first order from Arrowhead Beef and I'm very surprised and excited that it has been outstanding so far. I typically do not buy NY strip but I have to say the Wayu blend was fantastic. I also have never eaten a beef shank before but the pressure cooker gave the moist delicious taste! Super excited about the ribeye I have yet to try! Will be getting more for sure
11/10 Amazing!!
Best steak and ground beef I've ever eaten! Beats any store bought steak, beef, etc. From now on I'm only buying from here!
Turn it all the way up to 11!!! That's what I like to hear :)
Cheers
Tony
Excellent!!!
Tony, your beef is exceptional! And this is coming from a Butchers Daughter!
Thank you!!
Susan
The highest of thanks for the equally noble of compliments.
Cheers
Tony
On Time and Happy Client
I ordered the grass-finished Wagyu 20lb pack for a client of mine for Christmas. The order arrived on time and my client was blown away. Thank you for delivering as promised!
Super glad your gift was a smash hit. Besides, it's got to be better than a Jelly of the Month Club!?
Cheers
Tony
Most delicious steaks ever!
We got our Private Reserve Pack last week and the first thing we cooked was the T Bone. It was literally the best steak I've ever had in my life. Tonight we had burgers from the ground beef- mouth watering and ... simple! We love our Arrowhead Beef!!
Nothing greater than repeat customers and their continued support for our farm.
Cheers
Tony