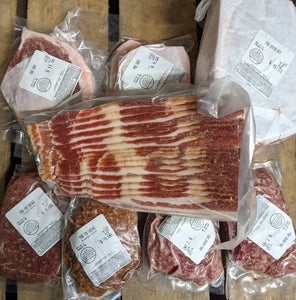 If you are like us and you can't decide what sounds the best and you really want to sample all the good stuff then pick up this little bundle and wait for the feast.
Pack Includes:
Pork Chops x 4 pcs
Bacon x 1 pack
Boston Butt x 1 pc 
Fresh Ground Pork x 1 pack
Seasoned Ground Sausage x 2 Packs
This bundle weighs approximately 10 lbs
Porkage
Can't go wrong with Arrowhead "Pork". Love these guys. Going to smoke a Boston Butt from them this weekend. Can't wait. P. S. Love the bacon. Thanks.
The bacon is one of my favorite items; I don't use any nonsense, just a light rub and some smoky pecan wood goodness!
Cheers
Tony