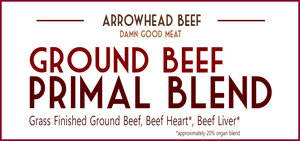 1 lb of ground beef with liver and heart.  Yummy!
20% Liver & Heart Blend w/ 80% Ground Beef

Another one...
Another tasty purchase. I made burgers for dinner and my husband isn't an organ meat fan. I told him afterwards and he was surprised but said it was worth every bite!
It's the Caveman 'Incognito' Blend :)
Cheers
Tony
Best ground beef
The flavor of this ground beef was phenomenal. Nothing compares to how juicy the burgers turned out and barely needed any seasoning or salt
Game. Set. Match. Arrowhead Beef for the win!
Cheers
Tony
Enough said. It's good!
Cheers
Tony
Delicious and nutritious
I'll be buying this again!
We approve of this message!
Cheers
Good for us and great flavor
My reviews of Arrowhead Beef are consistent - great flavor, minimal grease when cooking. Just a testament to how well they are raising their livestock. Also, even though there is organ meat (heart and liver) in this ground beef, there is no liver taste! Cooks up beautifully and adds a bit more nutrition without my kids and hubby knowing anything changed. LOVE IT!
We hide the liver in the ground beef, so you don't have to, lol. We'll keep this little secret between us.
Cheers
Tony