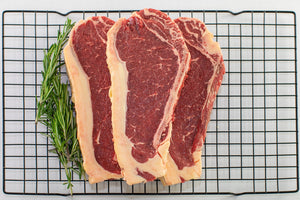 The NY Strip (or Kansas City Steak) is a fine grained steak commonly known as "the big side" of a T Bone steak.  Cut from the short loin this steak is lean and full flavored, making it a popular item to
Steak Size:  We offer small and large steaks, both of which are cut 1.25″ thick
Cook: Grilling, Broiling
Tough
It was very fatty and the meat was tough. First time we were so disappointed.
This is a real bummer!! Hopefully the first is also a last. Here's to next time....
Cheers
Tony
We couldn't agree more.
Cheers
Tony
Amazingly tender and delicious
This steak was amazing. I cooked it in a hot cast iron pan and it came out perfectly. I'll buy this again.
Our Beef + Cast Iron = Perfect Meal!
Cheers,
Tony
Very tender and excellent taste
Will definitely order again. The order arrived quickly and was of excellent quality.
We strive to make everyone happy with our great beef.
Cheers
Tony
NY Strip
Outstanding piece of beef. Wonderful service. Highly recommend for quality steaks reasonably priced and LOCALLY owned
We never get tired of hearing how happy our customers are when they enjoy our meats :) Thank you Chris!
Cheers
Tony