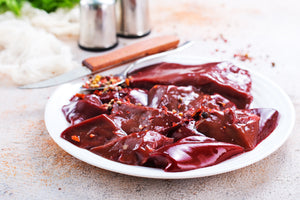 There's not much we can say about Liver that someone doesn't already know. Popular to make into spreads like pate or eaten with onions, the liver is high in vitamins and minerals like iron and B-12.
Size:  Small is about 1 lb and large is about 1.5 lb (sliced)
Cook: Bake, sauté, broiled, raw
Love Liver
I am weird according to my family. Why? I love liver. I will eat it in all forms, except raw. The liver I received from Arrowhead Beef was incredible! It was velvety and very tender -- I could cut it with a fork. I drove my Yorkie crazy while grilling it. I gave her a raw piece (her favorite way to eat liver) and she really started begging and barking, in case I didn't see her begging. We both ate the liver. It was sooo good. Definitely will buy more.
Dice into small pieces, freeze and swallow whole and raw! The Yorkie knows how good that raw liver is :)
Cheers
The Liver was Fantastic!
Your loving care of your pasture raised cows gave me confidence this liver was clean, free from antibiotics and hormones and pesticides that are in grains. That means everything. I appreciate you supporting my journey to vibrant health. Liver is the best source of vitamin D next to being in the sunshine everyday! I'm grateful your cows have that opportunity and I can receive that benefit from them. Thank you so much!!! I will order again and again!
It's a bird!? It's a plane!? No...it's....Super Liver!!!
Pow! Bam! Smash! Super Liver strikes again :)
Cheers
Tony
The Best
This is definitely the best liver I've ever had.
You've cracked the code and discovered that liver is nutritious and can even be delicious :)
Cheers
Tony