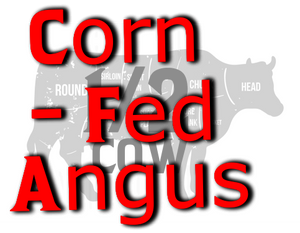 This is pasture raised and corn-finished.  The breed is Angus and Angus Cross.
In addition to our very popular grass-fed/finished beef that we raise (The Parthenais and Limosuin breeds) we also have a small herd of Angus that we feed out on corn.  We have decided to also offer this beef to the public as we are receiving increased demand for bulk beef options.
This is a deposit only.  
DO NOT PURCHASE ANY OTHER ITEM AT THE SAME TIME. 
DO NOT PURCHASE ANY OTHER BEEF OR PORK SHARE AT THE SAME TIME.
Price is $5.75/lb for the hanging weight of the animal.
Average Half Cow Hanging Weight : 300 - 400 lbs
Average Half Cow Take Home Weight : 180 - 250 lbs
The Cuts
Standard Beef Cuts: Chuck Roast, Tip Roast, Brisket, Rump Roast, Shank, Short Ribs, T-Bone, Rib Eye, Sirloin, Ground Beef, Stew Meat (optional to save soup bones & organ meats).
Typical take home breakdown with Standard Cut Selection.
Ground Beef & Stew Meat 40%
Roasts 30%
Steaks 20%
Misc items 10%
You Select:
Steak thickness
How many steaks in each pack
Size of ground beef packs (standard is 1#)
Which roasts to keep or grind
Other custom requests
Keep or pass on offal
After you place your order we will call to discuss the time line and to get your customer cut instructions.
If you have any questions please call 850 270 8804
Deposit is non-refundable after we confirm your harvest date and you accept the schedule.
In order to receive Route Package Protection on your beef or pork order, you will be charged a portion of the Route cost with the initial deposit and the remaining balance (up to 3% of the order subtotal) on the final invoice.
Arrowhead beef purchase
The beef we received tastes fantastic and we will buy from arrowhead again
That's a solid review if I ever laid eyes upon one.
Cheers
Tony
Best beef in bulk!!
Love the meat and flexibility of the company to fulfill my exact order! You cannot go wrong with Arrowhead Beef and the customer service is outstanding!
Yabba Dabba Doo!
Cheers
Tony
Awesome!!
We just purchased a 1/2 beef and we have loved it so far! It tastes better than anything from a store! We will be back!
Stores are so yesterday. Here comes the wave of true Farm-To-Fork (or Spoon if you make soup!).
Cheers
Tony
Another Great Delivery!
The service, packaging and delivery were superb again. I tried a little different Beef this time, Grass fed, Corn finished instead of Grass fed and Grass finished. Beef is still awesome, just a bit more marbling. Thanks for great product!!!
Yep...a little more fat and a way shorter wait time, LOL. We're just glad we can keep supplying you and your freezer with great beef.
Cheers
Tony
Half Cow : $5.75/lb - Angus (corn finished)
We'll take it!
Cheers
Tony