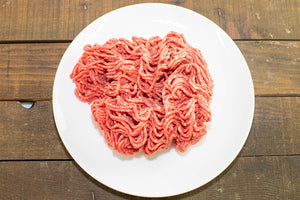 Ground Beef is a very versatile product, allowing you to make multiple dishes from one item and still get that great Grass Fed Beef flavor in every bite. Whether you're into tacos, hamburgers or some kickin' chili, our 90/10 Ground Beef is perfect for your needs.
Size: Each individual package weighs 1 lb
Cook: Grilling, Roasting, BBQ
Moo over chicken
Best freaking ground beef ever. We use primal blend for awesome tacos and grass fed ground beef for deelish burgers!
Moo says 'get the cluck out of here' hahaha. Cows can be punny too. Enjoy the Caveman Primal Blend...I created it!
Cheers
Tony
Will be buying again!
Excellent quality & flavor, customer service is great! Bone broth is my favorite I've ever had. Grass fed beef and pork are so good. Cook up nicely in the tallow they sell too. Also got the liver and eat it raw daily. So good. Will be buying again!
Raw liver...you're crazy!! JK! I eat mine with sea salt and honey and/or maple syrup. Makes me feel like Superman...time to fly!!
Cheers
Tony
Fantastic as always.
Nothing better than knowing where your food came from. Delicious ground beef
I think it's time we come up with a special Beef + Mango recipe!?
Cheers
Tony
Ground beef
Very good and tasty. Thank you very much .
You are most welcome.
Cheers
Tony
Great tasting beef and great service!
I ordered this beef to ship to my Mom. She loved the flavor of the beef and pork. Definitely can tell a difference in the quality versus grocery store meats. I love the peace of mind that I can send my Mom local, nutrient dense meats that we know where it came from. Want to always buy direct from the rancher!
Those grocery stores can't hold a candle, nor a blowtorch to our meats.
Cheers
Tony