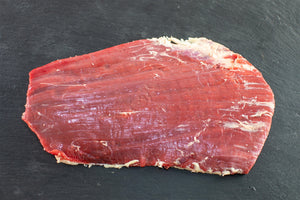 A long and flat steak cut from the abdominal region, the Flank Steak is very lean with excellent flavor. Marinating, while not essential, is a good option to help tenderize it, as is slicing against the grain before serving.
Great Cut
Made a fajita dish with this flank steak- was trimmed expertly and the taste was fantastic! Will be ordering again soon.
I bet those fajitas were moo bien!
Cheers
Tony
This piece of meet is very good & tender. We like it. Thank you very much.
Delicious deep flavor
Best flank steak I ever purchased
It's a flank steak for the win!!!!!!!
Cheerio
Tony
Ridiculous!
I have had only flank steak from the supermarket. Even marinated they have a texture of shoe leather. The Flank steak from Arrowhead beef was so tender and delicious even though I did not marinate. Thank you Tony.