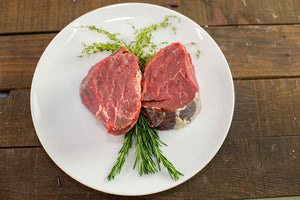 Looking to impress someone or just want to treat yourself today – then grab some Filet Mignon. Cut from the tenderloin, a filet is the most tender beef cut. Lean with a mild flavor it is both elegant and delicious.
Size: Filet Mignon is cut approximately 2" thick. We offer small and large cuts.
Cook Methods: Grilling, Broiling, Sauteing
excellent beef
We loved our first order! Just made a second.
Omg!!
This was my first order. The tenderloin was tasty, juicy and super tender. Beyond any other I have EVER had at any 5 diamond rated restaurant. Like the box says "Damn good meat". 😉👍🏼
That box don't lie!
Cheers
Tony
Delicious Filet
Salt & Pepper. A few minutes each side in the Cast Iron skillet, then rest. Absolutely tender, juicy, wonderful flavor. This was my first order with Arrowhead beef. It won't be my last. Looking forward to the rest of my order
S&P is alright with me!
Cheers
Tony
Ordered as Christmas Gift
Ordering process and delivery were flawless. Rave reviews from the recipient of the gift. Great job!!
Put a bow on it, because that gift is wrapped! Lol. Happy to hear it went perfectly.
Cheers
Tony
TENDERloin mmmmm!
When you have a choice cut of meat like this, you want to keep it simple. I just grilled it with some garlic salt and black pepper sprinkled on it, 8 minutes per side and rest for a few wrapped in foil. SO tender and delicious! We loved it, YUM!
Mmmmmmmmmmmmmmm. Perfect!
Cheers
Tony