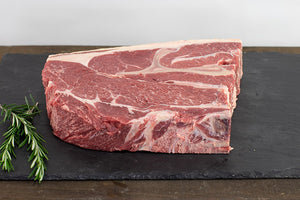 All hail the might Chuck Roast, a veritable king of the Croc-Pot.  If you've ever had a pot roast you probably were eating a Chuck Roast.  Cut to an average roast size of 3-4 lbs, this piece can feed a family and has a balanced level of marbling and is a bone-in roast.
Size : 3-4 lbs
Cook: Braise, Croc-Pot or Oven
Wonderful Beef
We thoroughly enjoy these "low and slow" cuts of beef, the roast is delicious!
It's a roast the entire family can enjoy. But the key is patience...and superior foresight to crank up the crock pot first thing in the morning!!
Cheers
Tony
Fantastic !
Making a really good pot roast is not as easy as you would think...but the [****] roast from Arrowhead Beef and my Dutch Oven are a winning pair...the best pot roast ever!
With the One - Two combo of excellent meat and proper cookware dinner is gonna get served!!
Cheerio,
Tony
Amazing!!!!
The beef is always top notch. Thanks [****].
I can't take all the credit, the cows helped too!
Cheers
Tony