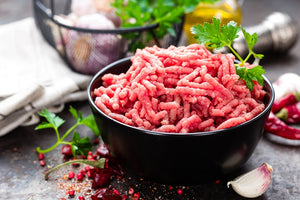 Wagyu Ground Beef is much more rich and juicy than other ground beef.  We product a 80/20 blend that creates an extremely rich and juicy blend that is perfect for any hamburger or main dish.
All ground beef comes in 1 lb packs.
Best burgers on the market.
Thanks for the Wagyu ground beef. These are the best burgers we've had.
Now that is a review to put smiles on our faces and dimples in our cheeks.
Cheers
Tony
Pure deliciousness
Makes the best juiciest burgers I've ever had!
Don't forget a good hardy napkin for all that juice!
Cheers
Tony
Delicious Beef
All of the beef we bought from Arrowhead was great, but the wagyu beef was out of this world.
That makes us intergalactic....cool!
Cheers
Tony
Awesome!
Highly recommended. Everyone at the party loved the Wagyu burgers.
They loved that YOU prepared them! Doesn't hurt the meat is great too!
Cheers
Tony
It was delicious
The burgers were juicy and very flavorful( med rare) I had only great comments
I venture to say that even cheese is unnecessary when cooking the juicy Wagyu ground beef burgers!?
Cheers
Tony