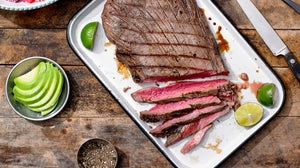 A favorite for slicing into fajitas or grilling the Wagyu FLANK Steak has no rival.  Break out your best recipe for Chimichurri and you've got a party on your hands!  
Sizes are (approximately)
1.5 - 2 lbs 

2 - 2.5 lbs
2.5 - 3 lbs
Best steak ever
My husband has been dying to try Wagyu steaks for quite some time, so I decided this would be the perfect meal for his 40th birthday. In his words, "it was the best steak ever!" (And he's had ALOT of steaks). We will definitely be buying from Arrowhead again- thank you!
40 trips around the sun and happy to know our steaks may take the journey with y'all on the next 40.
Cheers
Tony