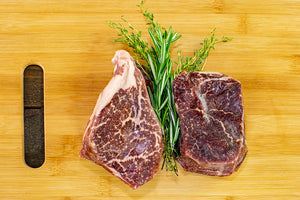 The Wagyu Tenderloin Filet is the most coveted piece of meat in the world.  Wars have waged and lands have been seized in the name of the great Wagyu Tenderloin Filet. The most tender of all steaks these center cuts are the pinnacle of beef.
All our Wagyu Filets are boneless and we offer 3 different grades and 2 different weights. 
Grading Scale
Most beef is graded as Select, Choice or Prime.  Wagyu is such an exquisite beef that it has a grading scale above prime. The grading is done via ultrasound and the entire carcass receives the same grade.  Remember, marbling in a Ribeye will be more distinct than a NY Strip than a Filet.  
The grading is done a 10 point scale with 10 being the highest.  You can consider Prime to be 0 to 2 on that scale.  Our fab groups the grades into 4 categories, we offer 3 of those.
Market grade is 5 and down. 
Classic grade is 6-7.
Signature grade is 8 - 9.  
Reserve grade is 10+

It will leave you speechless.
Very Good Meat. Recomend to all!
That's the enthusiasm we love here at Arrowhead Beef!
Cheers
Tony
Flavorful and well marbled Wagyu
After paying a steep price for Japanese Wagyu, we decided to try Arrowhead's Wagyu. We found that we prefer the flavor of this locally grown Wagyu. The marbling in the filets was perfect. The cost was reasonable for Wagyu so we will definitely buy again! Customer service from Arrowhead is always great!
Wagyu Filet
We cooked our Wagyu filets in a cast iron skillet and transferred it to the oven to finish them off. We served them medium rare. The meat was so tender and flavorful and very easy to prepare. We will be ordering them again! The shipping was done carefully, it came on time and everything was frozen when it arrived here in Miami.