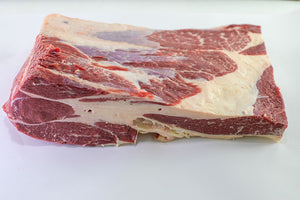 Product Description:
For anyone who loves to spend the afternoon next to the grill, the delicious flavors of smoked meats filling their nostrils...then Brisket is the cut for you.  Arguably the most flavorful cut of the entire cow, a Brisket is known by many for its robust taste and fatty goodness.  Recommended to slow cook and dry rub for an amazing meal.
Size: We cut full side briskets into smaller pieces, either small (3-5 lbs) or large (5-7 lbs).  If you want a full-size piece 12-14 lbs please call us 850 270 8804
Cook: Slow cook, either in an oven or on a grill.
Wonderful!
Florida raised, grass fed, top quality, no supply chain, from the Florida ranch to the Florida consumer. I love buying my meat from Arrowhead. I think you will too! Delicious
The perfect summary for why we are proud to be selling direct to consumer. From our farm to your plate!
Cheers
Tony
Excellent!
You will not be disappointed!
Brisket Review
Absolutely delicious!!! Beautiful meat!
We think so too!
Cheers
Tony