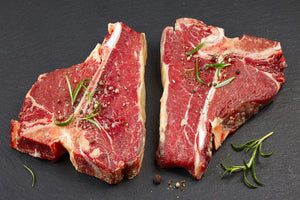 The best of two worlds, the T-Bone is really the combination of the top loin (NY Strip) and tenderloin (Filet) all packaged together in a beautiful T shape. A bit larger in nature, our T-Bone steaks average around 18 oz and make one heck of a great steak on your BBQ.
Tbone and Ribeye steaks
Both the Tbone and Ribeye steaks were awesome, great flavor! And as always the ground beef is the best I've ever had, keep it coming Arrowhead! As long as I can afford to buy beef, this is the ONLY place that I buy from!
Scrounge under the couch cushions, check in between the car seats, sell stuff on Marketplace! Whatever it takes to keep eating great beef!! Lol.
Cheers
Tony
Top quality as promised!
Fabulous cuts of meat, delivery on time as promised. Thank you!
Hooray for great beef and wonderful customers!!
Cheers,
Tony
Steaktastic
I gave my brother who is a picky eater 2 T-Bones as a gift for watching my dogs while gone. He said Holy Sh-t! Best Damn Steaks he has ever had.
It's the gift that keeps on giving :)
Thanks Daniel!
Absolutely Delicious!
I just had the opportunity to eat my Arrowhead T-Bone Steak. I slowly cooked it in an iron clad pan with one tab of butter and a simple steak seasoning. I cooked to rare and took it out of the pan and the steak cooked a bit further. The taste and texture felt like a restaurant quality steak, that was as smooth as butter. I was worried it would be chewy, yet it just melted in my mouth. Excellent taste, texture and quality! During the pandemic my steak was just what I needed to feel like I ate at a restaurant at a time (Covid-19 pandemic) when restaurants aren't open for diners. Thank you Arrowhead Beef!
Cast Iron + Butter + Arrowhead Beef = Heaven
Cheers
Tony