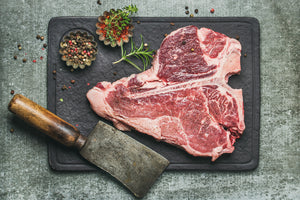 Don't be fooled, the Porterhouse is basically the same as a T Bone except it has a LARGER piece of tenderloin (filet) attached. It's the most impressive steak that we offer and is guaranteed to feed the hungriest of appetites, or maybe a couple of them.
Average Steak Size:  Each steak is 22 – 28 oz and are cut 1.25″ thick
Cook Methods: Grilling, Broiling
Excellent!
It was tender and very flavorful, and we will be ordering it again soon.
We look forward to your return for more!
Cheers
Tony
Excellent quality
I've decided to transition to an organic diet. This purchase was an attempt to find a quality organic beef provider and we hit the jackpot. The beef is excellent. Will definitely purchase more.
This is what we live for. So glad you have found us and we look forward to continuing to provide you with excellent beef!!
Cheers
Tony
Awesome. Good marbling great flavor.
Awesome. Good marbling great flavor.
Tender and delicious.
Thank you so much for the kind words and we are very glad you enjoyed the meat.
Cheers
Tony
Fantastic!
Prompt shipping, excellent communications, and best of all delicious steaks. Thank you!