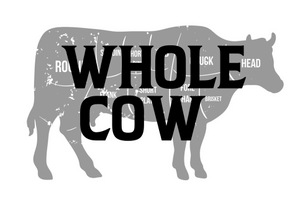 This is a deposit only.  

Price is $5.90/lb for the hanging weight of the animal.
Hanging Weights (lbs) 550-700-850    
Take Home (lbs) 340-440-520
The Cuts
Standard Beef Cuts: Chuck Roast, Tip Roast, Brisket, Rump Roast, Shank, Short Ribs, T-Bone, Rib Eye, Sirloin, Ground Beef, Stew Meat (optional to save soup bones & organ meats).
DO NOT PURCHASE ANY OTHER ITEM AT THE SAME TIME. 
DO NOT PURCHASE ANY OTHER BEEF OR PORK SHARE AT THE SAME TIME.
Typical take home breakdown with Standard Cut Selection.
Ground Beef & Stew Meat 40%
Roasts 30%
Steaks 20%
Misc items 10%
You Select:
Steak thickness
How many steaks in each pack pack
Size of ground beef packs (standard is 1#)
Which roasts to keep or grind
Other custom requests
Keep or pass on offal
After you place your order we will call to discuss the time line and to get your customer cut instructions.
If you have any questions please call 850 270 8804
Deposit is non-refundable.
In order to receive Route Package Protection on your beef or pork order, you will be charged a portion of the Route cost with the initial deposit and the remaining balance (up to 3% of the order subtotal) on the final invoice.
Arrowhead Beef knocks it out of the ballpark every time!.
I will continue to be a repeat buyer! Taste, quality of meat and expert packaging and shipping are an A+! Thanks again Tony!
Put us on the Honor Roll :)
Cheers
Tony
Still the best deal and quality
Tony and team are reliable, customer service is excellent, and the beef comes perfectly packaged in good quality vacuum sealed containers. But most importantly, we'll keep coming back because this is the beef is the best in Florida.
We are a very small team but we do it right!
Cheers
Tony
Great Purchase!
Nothing like stocking the freezer up with good quality beef! Can't beat the taste or price. Always worth the wait! Thanks guys!
Make your freezer smile :)
Cheers
Tony
Delicious
Great deal and very tasty. There is a huge difference between grassfed and any beef you buy at the grocery store. I wont ever buy beef from the grocery store again
Make those grocery stores yesterday's old news...come back to good ol' farm raised beef!
Cheers
Tony
Fantastic company
Arrowhead Beef exceeded our expectations. Yes, it takes a while to get your order- these things cannot be rushed. A lot in play, considering the current conditions. Great packaging and flash frozen. The price is a bargain also. Tony kept us updated every step of the way. Extremely satisfied! Ty Tony!!
Customers for life! Cheers 👍
Tony Reynolds & Laura Williams
Our review response is almost as fast as our beef shares, lol! So happy y'all are super satisfied.
Cheers!
Tony