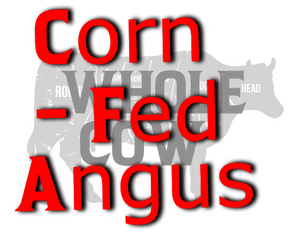 This is pasture raised and corn-finished.  The breed is Angus and Angus Cross.  
In addition to our very popular grass-fed/finished beef that we raise (The Parthenais and Limosuin breeds) we also have a small herd of Angus that we feed out on corn.  We have decided to also offer this beef to the public as we are receiving increased demand for bulk beef options.
This is a deposit only.  
DO NOT PURCHASE ANY OTHER ITEM AT THE SAME TIME. 
DO NOT PURCHASE ANY OTHER BEEF OR PORK SHARE AT THE SAME TIME.
Price is $5.25/lb for the hanging weight of the animal.
Hanging Weights (lbs) 550-700-850    
Take Home (lbs) 340-440-520
The Cuts
Standard Beef Cuts: Chuck Roast, Tip Roast, Brisket, Rump Roast, Shank, Short Ribs, T-Bone, Rib Eye, Sirloin, Ground Beef, Stew Meat (optional to save soup bones & organ meats).
Typical take home breakdown with Standard Cut Selection.
Ground Beef & Stew Meat 40%
Roasts 30%
Steaks 20%
Misc items 10%
You Select:
Steak thickness
How many steaks in each pack pack
Size of ground beef packs (standard is 1#)
Which roasts to keep or grind
Other custom requests
Keep or pass on offal
After you place your order we will call to discuss the time line and to get your customer cut instructions.
If you have any questions please call 850 270 8804
Deposit is non-refundable.
In order to receive Route Package Protection on your beef or pork order, you will be charged a portion of the Route cost with the initial deposit and the remaining balance (up to 3% of the order subtotal) on the final invoice.
Whole Cow
man can't express how much we love the meat. also shipped to Hawaii with no hassles! thank you, you have gained a lifetime customer.
We'll ship to the moon if necessary!
Cheers
Tony
Question
Does the cow come with the tenderloin? Also how much is would the whole cow be because i am confused
Not exactly your typical review but...we'll take it!!
Cheers
Tony
PS Yes, the cow comes with the tenderloin.
Amazing
Awesome flavor and packaging. Caveman is super nice. Highly recommended
We take pride in our work!
Cheers
Caveman
Whole beef order
Ordered whole beef everything came packed with quality and tastes amazing. Will definitely be ordering again in the future !
Here is proof we are making headway on the list of Beef Shares, lol. We are always thrilled when the cow gets delivered and the customer is satisfied. See you again!
Cheers
Tony
Always great!
Best purchase we made. Ours was grass fed. Definitely worth the wait for a full freezer!
Good things come to those who wait. Great things come to those who wait a little longer :)
Cheers
Tony