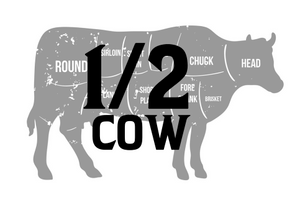 This is a deposit only.  
Price is $6.20/lb for the hanging weight of the animal.
DO NOT PURCHASE ANY OTHER ITEM AT THE SAME TIME. 
DO NOT PURCHASE ANY OTHER BEEF OR PORK SHARE AT THE SAME TIME.
Average Half Cow Hanging Weight : 300 - 400 lbs

Average Half Cow Take Home Weight : 180 - 250 lbs
The Cuts
Standard Beef Cuts: Chuck Roast, Tip Roast, Brisket, Rump Roast, Shank, Short Ribs, T-Bone, Rib Eye, Sirloin, Ground Beef, Stew Meat (optional to save soup bones & organ meats).
Typical take home breakdown with Standard Cut Selection.
Ground Beef & Stew Meat 40%
Roasts 30%
Steaks 20%
Misc items 10%
You Select:
Steak thickness
How many steaks in each pack pack
Size of ground beef packs (standard is 1#)
Which roasts to keep or grind
Other custom requests
Keep or pass on offal
After you place your order we will call to discuss the time line and to get your customer cut instructions.
If you have any questions please call 850 270 8804
Deposit is non-refundable after we confirm your harvest date and you accept the schedule.
In order to receive Route Package Protection on your beef or pork order, you will be charged a portion of the Route cost with the initial deposit and the remaining balance (up to 3% of the order subtotal) on the final invoice.
Happy!
We are happy with our order. Thank you!
If you're happy and your know it...eat some beef (clap clap).
Cheers
Tony
sooo
So basically on average your take home weight averages to around 10 dollars a pound.... that's higher that any big chain grocery.. smh
Hooray for math skills!
Also, hooray for us not being a big chain grocery!
And also...you haven't even purchased this yet and you're leaving us a 5 star review...so, hooray for that too?!
And finally, actual take home cost/pound varies based on how you have us butcher and package the meat. Hooray! :)
Cheers
Tony
Great beef, great people!
I found the people at arrowhead to be extremely knowledgeable about the breeds, the cuts of beef, timetable, and execution. I have already thrown a couple of New York strips and ribeyes on the grill and they were fantastic! Looking forward to my next half!
Keep that grill hot, you've got lots to cook!
Cheers
Tony
Awesome
It's has been great! Highly recommended!
Most excellent :)
Cheers
Tony
It's alright
We ordered a half cow - GRASS FINISHED - but when we picked it up, the guy helping me load everything said there were two "goofs" with our cow. For one, we specifically ordered a prime rib (it's our Christmas tradition and we were So looking forward to having THIS cow as our Christmas dinner. However, our prime rib was cut up, so now in addition to paying $3000 for this cow, I'm STILL going to have to go to the butcher and buy a prime rib this December. The SECOND "goof", which I'm still not clear on the details, is that (for some reason) our grass FINISHED cow "got too fat" (?). I don't know. The guy tried explaining it, but it didn't make sense. He said it got fattier than they planned, so our meat isn't as lean as we were expecting. The meat is yummy, but for what we paid, I expected to get what we ordered and not "we goofed".
You'd like with TWO "goofs" we'd get a discount or some type of compensation, but no. We got meat not as lean as we paid for, and no prime rib…I understand we all make mistakes, but maybe don't be so casual and "oops my bad, oh well" about it.
Hmmmm...most concerning; here again, allow me to explain and expel your confusion. I'll relay the information to 'that guy' you spoke to.
There was only one 'goof' and that was your request for a prime rib selection which got cut into ribeye steaks. We do apologize for that. You still got all your meat, it was just as steaks. Yes, even we do make mistakes on occasion. For this we hope you understand.
The second 'goof' is NOT a mistake or an accident or a 'goof' or something we are ashamed of. As was attempted to be explained at pick-up, you received a steer with higher (more) Angus genetics (and less Parthenais genetics) which means your cow has more marbling, i.e. fat. While this is less common for us, these Angus X are still 100% grass-fed and grass-finished. They are still a part of our farm and what we produce.
It was attempted to be explained that if you order again, don't EXPECT your meat to be as marbled. Some customers consider the higher marbling a bonus...I suppose it is perspective.
Alas, we are happy you find the meat 'yummy' and again apologize for ruining your upcoming Christmas dinner; perhaps steaks will become a new tradition!!
Cheers
Tony