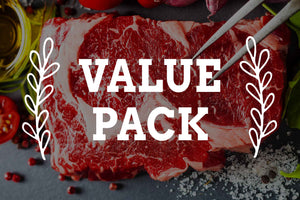 We know how important variety can be, as well as keeping everything in a budget. That's why we created our own Grass Fed Beef Value Pack, which is full of cuts from every category, all at one great low price. Now you can enjoy Premium Steaks one night, make hamburgers on the weekend and still have plenty of meat left for the following weeks.
The Value Pack Includes (weights are approximate)
3 lbs Steak (Mix of Premium & Contemporary)
3 lbs Boneless Culinary (Kabobs & Fajitas)
3 lbs Bone-In culinary (Mix of Shank & Short Ribs)
4 lbs Roast (One of any of our delicious roasts)
2 lbs Stew
5 lbs Ground Beef.
Size: Total pack size is 20 lbs
Cook: Mix of all cooking methods depending on the cut
Seems like a good value!
We like supporting the rancher direct. Only tried three of the individual packs of meat so far. Nice taste! Shipped very nicely also! The only complaint would be from my wife: so far every vacuum package has leaked while thawing out. Just have to be careful as we thaw, I guess. Thank you and would order again!
Thank you for the feedback; the roll stock vacuum machine is quite the beast but it's not perfect; we shall continue to inspect the final products.
Cheers
Tony
We shall make great efforts to improve upon your detailed critiques.
Cheers
Tony
Consistently awesome
This is my second order of the value pack. I love the quality and the variety. I also love a bit of the mystery as to what will be in the box. It makes cooking fun as you get to try some cuts you may not buy regularly (or ever)! I will continue to buy from Arrowhead and recommend them.
Score one for the mystery meat, lol!
Cheers
Tony
Awesome Beef!
Tastes great, shipped fast, and very reasonable price!
That's a fateful combo if I ever saw one...Bam! Pow! Thwack! Beef for the win!!
Cheers
Tony