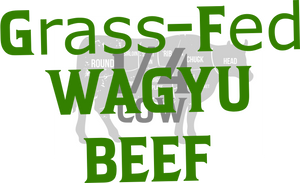 EXCLUDED FROM

BLACK

FRIDAY..
It's back!
We are ready to open up orders for our very special, very rare 100% grass-fed and grass-finished Wagyu beef.
This is quite literally, in my honest opinion, the best meat in the world. When considering the marbling, taste, flavor and texture and the fact that all fat has been derived from only a grass diet. Woohoo!
All shares are only being sold as Quarters.
This is a deposit only.  
Price is $8.00/lb for the hanging weight of the animal.
Average Hanging Weight 1/4 : 225 lbs
Average Take Home Weight 1/4 : 145 lbs
The Cuts
Standard Beef Cuts: Chuck Roast, Tip Roast, Brisket, Rump Roast, Shank, Short Ribs, T-Bone, Rib Eye, Sirloin, Ground Beef, Stew Meat (optional to save soup bones & organ meats).
Typical take home breakdown with Standard Cut Selection.
Ground Beef & Stew Meat 40%
Roasts 30%
Steaks 20%
Misc items 10%
You Select:
Steak thickness
How many steaks in each pack pack
Size of ground beef packs (standard is 1#)
Which roasts to keep or grind
Other custom requests
Keep or pass on offal
After you place your order we will call to discuss the time line and to get your customer cut instructions.
If you have any questions please call 850 270 8804
Deposit is non-refundable. 
In order to receive Route Package Protection on your beef or pork order, you will be charged a portion of the Route cost with the initial deposit and the remaining balance (up to 3% of the order subtotal) on the final invoice.
Awesome!!!
Great taste, quality and delivery!!
What more could one ask for you!?!
Cheers
Tony
Very Delicious
We are very happy with the Wagyu beef. It's so good and very fairly priced. Tony's very good at his job. We recommend very highly and will order again!
Thank you for the personal compliment :)
Cheers
Tony
The best tasting burger I have ever had!!!
Steaks were amazing, as I expected. But the burger knocked my socks off! We will be a forever Arrowhead beef customer!!!
We prefer burgers with bare feet anyway!
Cheers
Tony
Really, really high quality beef
The grass fed wagyu is probably the best beef I've ever eaten. I expected it to be very good at the price point it's at but it's much better than I could have expected. Better than any American or Australian wagyu I've had and for the quality it's an absolute steal at $8/lb hanging weight.
Thanks a million Antonio. Pleasure to chat in person with you after making the long drive to pick up your beef share. Lookin forward to seeing you again my friend.
Cheers
Tony
OMG This is amazing steak!
We have thoroughly enjoyed this delicious steak. We've had Several varieties of steaks and ground meat from Arrowhead And we are never disappointed. The wagyu grass fed steaks and ground beef have delighted us. Highly highly highly recommended.
Hip hip hooray! You keep setting them up and we'll keep knocking them down. Thank you for your repeat business and we look forward to seeing you again.
Cheers
Tony